Product Description
A classic of magic. Any object that can fit inside this box of wonders can be made to appear and disappear!
An superb stage prop from the makers of quality professional magic - Tora Magic.
Perfect for assemblies, services, stage shows and parties.
THE EFFECT
The drawer is opened and shown empty, opening it for a second time it is filled with sweets that you pour into a bowl. The empty sweet wrappers can then be put the drawer and when the drawer is closed and opened again they have disappeared. One of countless effects with this fun prop!
Fits perfectly into your hand - that's why we call it the Handy Drawer Box.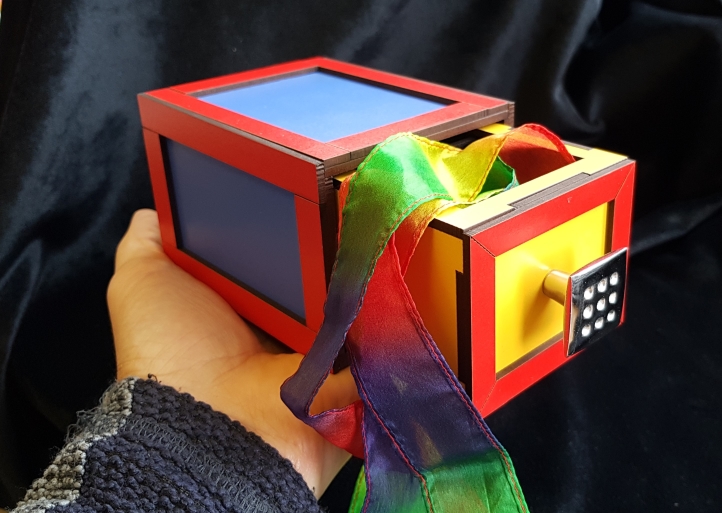 Professional quality prop in glorious primary colours
PERFORMANCE IDEAS
Make a change from your Change Bag, make a switch from your Switch Can! A drawer box can achieve similar effects but in a different way
One of the added benefits is that if you are holding the box the drawer can be opened and closed by your volunteer adding to the illusion.
Produce the birthday cake candles and a small gift for the birthday child parties. Produce baubles and other decorations at Christmas. Dust of your silks and sponges and stuff them in there!
GOSPEL MAGIC
Use this prop to make sweets appear 'Every good and perfect gift is from above.' James 1:17
- Illustrate the empty tomb by placing a folded white cloth (grave clothes) in the drawer and making it disappear. 'He is not here; he has risen, just as he said. Come and see the place where he lay.' Matt 28:6
- Show the box empty and produce a large Jesus Silk illustrating that Jesus will come again. 'And if I go and prepare a place for you, I will come again and will take you to myself, that where I am you may be also.' John 14:3
- Produce coloured sponge balls form an empty box and talk about the creation of the universe from nothing by God. 'In the beginning God created the heavens and the earth. Now the earth was formless and empty,' Gen 1:1-2
- Produce some bread from the empty box to illustrate the feeding of the 5000.
These are just some of the dozens of stories you can use this drawer box to illustrate!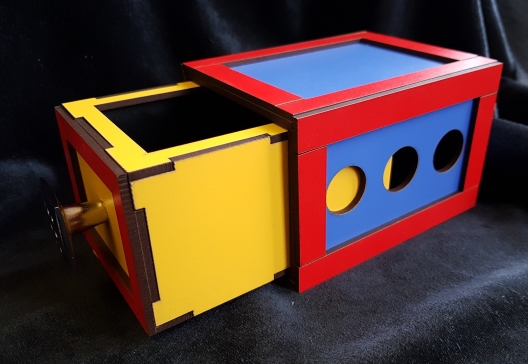 With holes that make the illusion look all the more impossible!
Top quality!

Very easy to use

Solidly made giving you many years of use.

Perfect size for birthdays and smaller shows

Countless uses, limited only by your imagination
The small box that's a big DRAW(ER) in your shows! (See what we did there)
Produce any number of different items including a box of cards, sponge balls, silks, small toys, small teddy bear and bars of chocolate.
You will receive: Tora's Handy Drawer box (11x9x7cms)
Product Videos
Custom Field
Product Reviews