You heard of counting sheep – what about counting angels!
Heavenly Hosts gives a child the chance to dress up as a shepherd and take part in a fun nativity themed challenge, counting angels on 4 randomly mixed stage sized cards.
There are 3 magical moments, a surprise ending and the all-important inspirational Biblical message. 'Today in the town of David a Saviour has been born.'
As always we give you bonus jokes and gags to add even more Christmas fun.
Easy-to-do magic that's perfect for beginners.
Perfect for seasonal school assemblies, church services, youth groups and community events.
THE EFFECT
With help from a volunteer, you count the number of angels on 4 large stage sized cards with super human speed. Then the cards are remixed and you count the angels blindfolded! For a surprise finish an angel magically appears on your volunteer's back.
Three magical moments with lots of dressing up.
And you get a halo to wear, after all you were 'mummies little angel!'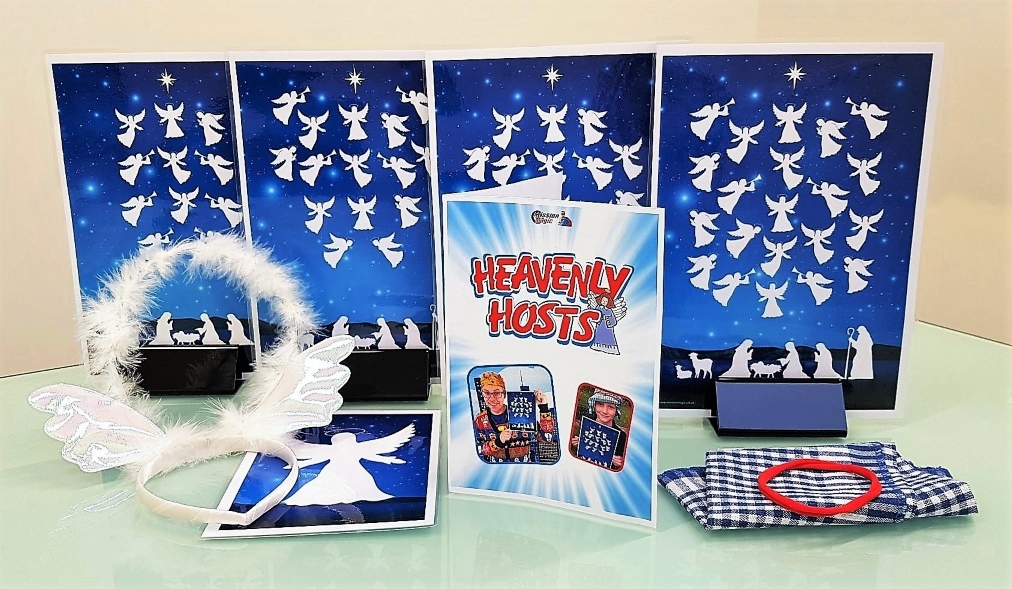 3 magical moments and a surprise ending for an unforgettable message
PRESENTATION
When the host of angels filled the skies, the shepherds didn't stop to count them. They were too busy running to find the new born king.
The Performer shows 4 large cards with angels flying over the shepherds. Each side of the cards has a unique number. 'Let's play a game called 'Count the Angels!' A volunteer is invited up to the front and dressed as a trainee shepherd.
The Performer turns their back as the trainee shepherd mixes the cards and puts them into 4 stands so they face the audience. The Performer turns around, takes one glance at the cards and looks away. After a few seconds though he announces, 'I counted 57 angels!' And after checking it correct!
The Performer now makes it even more difficult. 'I like a challenge.' The Performer not only turns away but ties a blind fold around his eyes as the 'trainee shepherd' turns any 3 cards around. Without any hesitation, the Performer calls out, that there are now 61 angels. 'No wait, there is one angel missing'
'Ah I think I know where the missing angel is.' The Performer puts a halo on. 'It's me. My mum always said I was a little angel!'
The audience laugh/groan/show pity. 'Actually, she said I was a little terror. But we are missing one angel' The performer asks the trainee shepherd to help look for it. There are shouts from the audience. 'It's behind you!' And there is the missing angel. It has magically appeared on the back of the volunteer!
The Performer now ends with a seasonal message. 'Today in the town of David a Saviour has been born.'
Count the angels at superhuman speed!
THE MAGIC
We show you how to count dozens of angels printed on the 4 cards at superhuman speed.
We let you into the secret as how the count the angels blindfolded.
Then we show you how to magically make an angel appear on the back of your volunteer!
All dress-up props provided
3 magical moments that build and build, with increasingly impossible odds!
Fun magical challenge with a memorable message
Packs small plays BIG!
IDEAS
Why not end by producing our Star of Wonder as a large glittering star magically appears. You can save £1.00 when you order this at the same time.
Heavenly Hosts is seasonal magic with a sprinkling of silly and a timeless Biblical message.
Only from Mission Magic.
You will receive:
x4 A4 angel cards with glittering green envelope

x1 A5 angel card with stick pads

x4 black plastic card holders

shepherd's headdress (towel and headband)

Angel halo

Exclusive instructional booklet, with scripted presentation, packed with ideas, suggestions and bonus gags.