Product Description
Colourful visual magic that's oh so easy-to-do.
The Effect:
You show the audience a box made out of clear perspex. It's clearly empty. You turn it round in your hands and they can see right through it. Then with a magic word and a wave of the hands the box is suddenly filled with colourful silks! You open the lid and pull out a long streamer proving it's real and not an illusion. You can also produce spring flowers or sponge balls!
Easy to load and work and light weight- ideal for the beginner to magic
The clean modern design will fit any style of show or venue
Anything that is produced can be taken out of the box and handed out
'This is a really nice prop. It is very easy to handle and the possibilities are endless with it. It is a very nice way to produce silk or spring flowers, sponge balls or whatever else you can fit into it.' Online review
This combination of size and quality normally costs twice as much.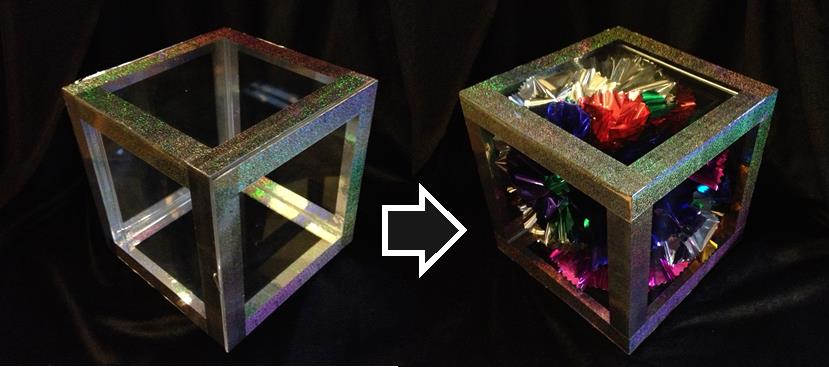 Presentational Ideas:
This is a utility prop that allows sponge balls, silks or sprung flowers to suddenly appear inside of the box.
The Teleport Cube: Use a change bag to make some spring flowers disappear and then reappear inside the box as part of a 'scientific demonstration'.
Testing for Magic: Open your show by getting the audience to say the magic words and so 'making' the flowers appear. Know you know that there is enough magic is in the room tonight to get on with the show.
Suddenly Silk: Use it as a closing part of a routine where you want a large silk to appear.
Sponge Ball Crazy: use the cube to make sponge ball appear at the start of a sponge ball routine.
Gospel Presentation:
The Resurrection of the Dead: The sudden appearance of flowers in the cube to illustrate sudden events in the Bible for example:
The Last Day 'We shall not all sleep but we will all be changed in a flash...' 1 Cor 15:51-52.
The Road to Damascus. 'As Paul neared Damascus suddenly a light from heaven flashed around him...'.Acts 9:3
God Filling the Temple with his Presence: 2 Chron 5:14
May the Earth be Filled with Your Glory: Psalm 72:19
Filled with the Holy Spirit Acts 4:31. Illustrate God's power to create from nothing in Genesis 1 or how God's love can fill an empty heart.
Phew - that's a lot of possibilities with one prop!
An attractive and well made piece of equipment you will be proud to own. The cube is trimmed with light reflective Mylar which creates a sparking rainbow of light and colour.
You will receive: x4 inch crystal cube (perspex) with holographic edges and written instructions.
We also sell the 6 inch version HERE
Product Videos
Custom Field
Product Reviews