Product Description
"Super easy to do and the kids will love it!" Perry Brangman
A comedy trick your audience will go BANANAS for!
Many different effects possible with this banana sponge set!
The Effect
You show a banana and put it into a paper bag…but a second banana appears in it's place. This can be repeated over and over again! Fab funny visual magic.
We don't know why, but – like sausages and rubber chickens – kids find bananas FUNNY! This trick is a veritable fruit salad of comedy and magic, with banana after banana appearing at your fingertips.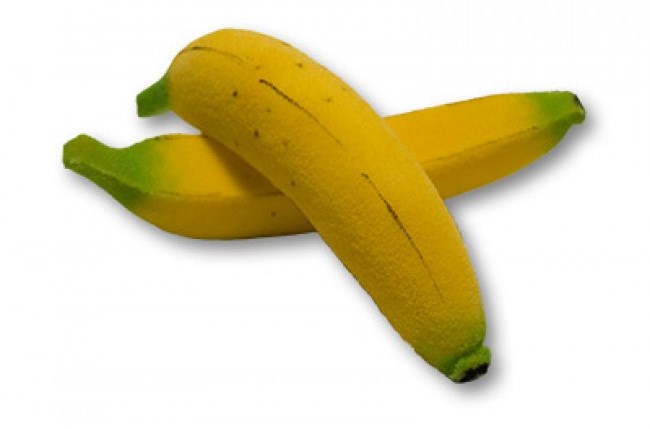 'Yes we have sponge bananas...we have sponge bananas today!'
Performance tips 1: You can either show the paper bag empty at the end of the trick, or you could have another object already in it for the bananas to turn into. How about a single giant banana, bottle of banana milkshake or a monkey puppet that's eaten all of your fruit…a natural lead-in to any puppet routine!
Performance tips 2: If you do sponge ball magic, order some yellow sponge balls too and these can be banana bubblegum or candy, then go into your favourite sponge ball effects. You could even drop each banana in any change bag or switch device (that can be shown empty first) then appear to change the bananas into yellow silks or whatever you choose.
Gospel Presentation
Start multiplying bananas and as you continue to produce them give your message, pausing at suitable points to look at the banana and then continue as before! For a really memorable presentation don't even refer to the bananas during or at the end of your message!
Forgiving 70 x 7. Jesus teaches us to forgive and forgive again "Lord, how often shall I forgive my bother? Seven times?"

Jesus said to him, "Up to seventy times seven.' Matt 18:22

F

eeding of the 5000.

Relate the story whilst you multiply the bananas. Make it clear it was bread and not bananas! Luke 9:1-17.

We Always Want More! People are never satisfied. We seek more money, more power, more fame. Only God can satisfy. 'Whoever loves money never has enough; whoever loves wealth is never satisfied with their income.' Ecc 5:10 'The eye never has enough of seeing, nor the ear its fill of hearing'. Ecc 1:8
Easy to do, only one 'move' that takes minimal practice but looks like real magic
Bright and colourful props that look more like bananas that many other sets on the market

Lightweight, packs small and plays big

Ideal for children's shows, stage magic or even close-up and walkaround entertainment (don't underestimate how funny these are for adults too!)
This is a great piece of fun you'll want to do again and again!
With dozens of possible routines the magic never stops.
You will receive: 2 x high quality large sponge bananas (all you need to make it appear you have hundreds!) with full printed instructions.
Supply your own paper bag, top hat or box for the banana's to appear from!
Review
"Thank you for my first magic order! Your level of service is fantastic! I got my order the next day, plus the special free gift. The sponge multiplying banana set is perfect and of high quality! Super easy to do and the kids will love it! I am thrilled with my purchases. Great props, and I look forward to next time!"

- Perry Brangman
Product Videos
Custom Field
Product Reviews