Product Description
The colourful change bag that packs flat but plays BIG!
We love change bags here at Mission Magic…a clever prop that changes, switches, transforms, forces or even magically restores almost anything! And they come in all shapes and sizes.
These flat change bag are even more deceptive as there is seemingly less to hide things inside. And the change happens in a magical flourish. Just rip open the bag and the transformed silk flies up into the air, add confetti for an even showier production!
Flat change bags are perfect for flat items that take up little room, e.g. silk handkerchiefs, streamers, paper and card. Certain soft sponge items will also work well.
These new change bags have vivid colourful designs and include shiny elements that really 'pop' under stage lighting. Patterns vary, but we're very impressed with the range of colourful fabrics used.
The velcro seams allow you to form and rip the bag as often as you like.
Professional quality - these are Italian made by the DiFatta magic company.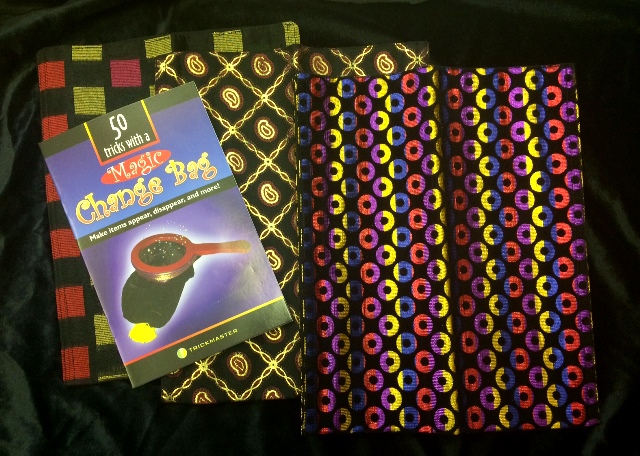 A number of different magical fabric designs & FREE BOOKLET
Mission Magic's Dan uses a flat change bag in every show, and finds them particularly effective for 'blendo' type effects – with the finished picture silk shooting high up in the air, before being caught to (hopefully!) tremendous applause.
We recommend the Four Square Blendo or Happy Birthday Cake Silk set as ideal products to go with this! You could also use single colour silks and magically mix the colours (e.g. red and blue become purple, or lots of separate silks become on big rainbow streamer!)
You are spoilt for choice with what you can do, but if you're stuck for ideas we also recommend the 50 Tricks with a Change Bag booklet, well worth the price of a cup of coffee!
Perfect for silk handkerchiefs

Vivid, colourful designs
Change, transform, repair, appear, vanish and even force a particular item!

A bag you'll be proud to own
BONUS: FREE BOOKLET with 50 different Tricks & ideas for your new change bag.
The prop of a 1,001 uses!
Comes complete with: Beautiful flat fabric change 28 x 24 cm with secret pocket, and instructions for use.
Design varies but each pattern is beautiful Italian material.
Product Videos
Custom Field
Product Reviews