Product Description
Only available from Mission Magic. There's nothing quite like the Super Story Stick.
It's a wooden wonder to wow and win over audiences!
x4 hinged wooden pieces make 101 different shapes that gives fresh life to any Bible story.
Your congregation or group have never seen Bible stories told this way before!
Our 20 page instruction booklet, detailed scripts and online training gives you everything you make an immediate start.
Learn the tried and test biblical presentations from the Story Stick experts!
'Fun and engaging...the kids and big kids at Junior church loved it! As well as the main message, they all wanted to have a go at making their own shapes and stories too." - Dan Wood.
THE EFFECT
The performer shows a long wooden stick, jointed at three points. This seemingly simple prop is used to tell many different stories, as the stick is formed into a wide range of clear, recognisable shapes. The pace picks up, as the performer switches effortlessly from shape to shape – telling entertaining stories, with memorable Gospel messages!
Children in particular respond well to visual aids, and the Story Stick allows you to bring any story to life – using either the x3 included routines OR making up your own stories and shapes!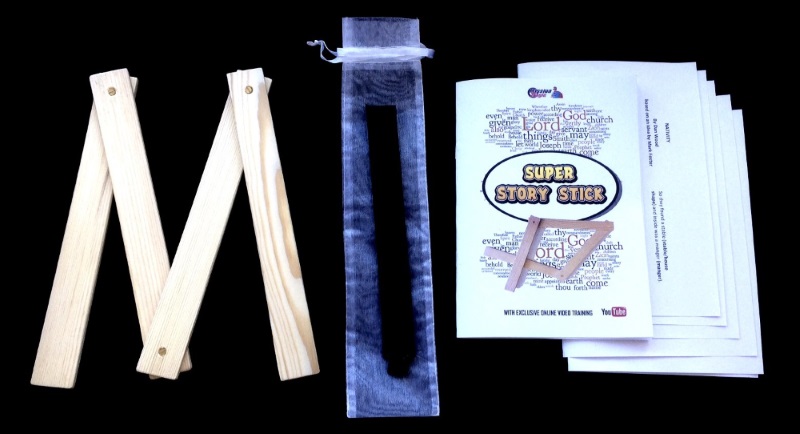 Story Stick, elcro Strap, Booklet and illustrated scripts - everything you need!
3 SCRIPTED ROUTINES
- Fred and his Wobbly Legs (Luke 5: 17-39)
The Classic story to use the Super Story Stick for. Tell the story of an unhappy boy, Fred with the Wobbly Legs. Fortunately, his four friends heard of a great man who can heal the sick, raise the dead and make the lame walk again…Jesus!
Paul Morley's highly entertaining routine features inventive shapes and an engaging story with a happy ending and clear message. You'll want to add this to your Gospel presentations!
- Hidden Treasure in the Field (Matthew 13:44)
Developed by Jonathan Robinson, Children's Minister at New Life Christian Centre in Wakefield, this fast-paced routine tells The Parable of Hidden Treasure with fun shapes including a shovel, diamond, bump in the ground, box, hole and many more.
- The Nativity
Created by Christian children's entertainer Dan Wood. You can now go into the full nativity story, packed with visual shapes to help illustrate it. We give you the full breakdown of shapes including a star, crown, halo, distant hills, Shepherd's crook, stable, manger and many more! A wooden winner for Christmas services and presentations!
BONUS IDEAS – Game for a Laugh!
In a junior church or youth work setting, why not make a game out of using the Story Stick? You can hand out the stick to children (allow enough time, they may all want to play with it!) and challenge them to come up with shapes you suggest – it's almost like wooden Pictionary, you could split the children into groups and have the other group try to guess what each shape is!
Also a great ice-breaker at Christian conferences and training events!
Packs small, plays BIG!
Custom made durable wooden prop
Countless ideas and stories possible
Fun and easy to use
Highly visual
Kids and big kids love it
WOOD you believe all the great ideas you get?! And don't forget all the fun you'll have coming up with your own stories and shapes!
FREE: 30 minutes of online video training and story telling demonstrations from Paul Morley and Jonathan Robinson.
'Stick' this in your shopping cart today!
A unique object lesson, versatile visual aid and interactive prop.
Only available from Mission Magic.
You will receive: Specially made wooden Story Stick, Velcro strap to keep the stick folded in your pocket, our extensive booklet of instructions, jokes and routines and x3 scripts with illustrated shapes. Link to online training video
Product Videos
Custom Field
Product Reviews