Product Description
The new fun easy way to tell the story of the birth of Jesus, with a magical surprise at the end. Ideal for school assemblies or church services.
'We had a lot of fun with 54321 Nativity.' Rev'd Stephen Froggatt
The Effect:
The performer shows five cards with colourful nativity images printed on them. The cards are used to tell the story of the nativity. Then four volunteers select any four of the five nativity cards. The word on the card is spelt out with envelopes, determining which envelope they receive. The performer and four volunteers end up with one card and one envelope each. When the envelopes are open each volunteer finds a bible verse bookmark and a Christmas cracker joke inside. Only the performer's envelope contains the £10 note!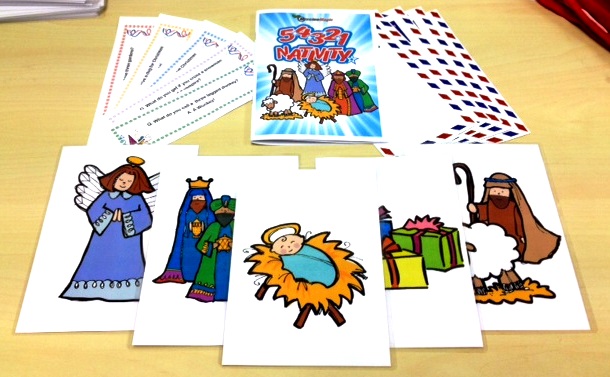 Colour props for a fun presentation.
No sleight of hand. No funny moves. This works every time due to a little known mathematical principle. You will always get the envelope with the money in allowing you to focus on your message
Easy-to-Do
Cartoon style nativity picture cards you'll want to use again and again
Clolourful A5 cards can be used with the largest of audiences
Packs small so you can take it anywhere.
Everything you need for an immediate start!
You can use this with 2 to 4 volunteers on stage or directly with a congregation.
SAVE: Save 50p when you order Christmas Throw Streamers at the same time - for a Shower of Streamers over the head of the audience. What a great finale!
You will receive
x5 laminated cards of nativity images
x5 airmail envelopes
A selection of bible verse book marks
Christmas cracker jokes
12 page booklet
Please supply your own £10!
Product Videos
Custom Field
Product Reviews