Product Description
This has the ZOOM SEAL OF APPROVAL! Perform your magic online now! This trick is ideal for being performed to camera as well as to a live audience.
"Loved this! So simple to use, and very realistic." Fiona Solman
The classic Christmas orange now comes with added magical zest! This incredibly realistic latex orange can be produced from the most unlikely place. An empty bag, your empty hands or even pull it out from a child's ear!
'Mission Magic is first rate. The mandarin from a bag is so simple to do but folks are mystified by it. I use it around the tables before I do my main talk.' Dave Bennett

Perfect for Christingle services. Great for any Christmas assembly or service about God gift at Christmas.
EFFECT 1
After rubbing your empty hands together you slowly open them to reveal a full sized mandarin orange.
EFFECT 2 - CHRISTINGLE
Explain the meaning of Christingle by first taking a red ribbon and a candle out of a gift bag and then pouring out the sweets and dried fruit. The bag is now clearly empty. The kids can even look inside it!
But where's the orange? Time for a little magic. The congregation shout out 'Jesus Light of the World' or wiggle their fingers for a Magical Christmas Christingle Tingle. You reach into the empty bag and magically produce a mandarin orange.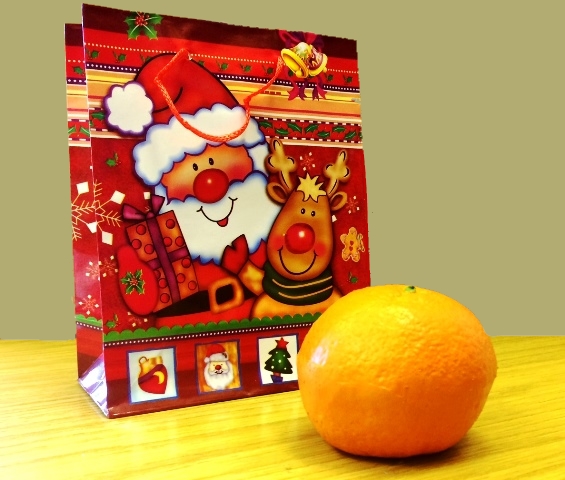 Incredibly realistic latex orange with gift bag.
GENERAL GOSPEL PRESENTATION
- Unexpected Gifts - Gods Grace - Oranges placed in Christmas Stocking represent the gifts of gold coins that Saint Nicholas (Santa) secretly put into the stockings of a poor man. The perfect start to explain who Father Christmas really is (a charitable 4th Century Bishop) and the gift of Jesus.
- Fruits of the Spirit - a magical way to start any talk or discussion on the fruits of the Spirit!
Very easy-to-do
Unforgettable visual magic
Perfect for Christmas
'Orange' you glad you've discovered this fun Christmas trick!
So easy-to-do. This is a very REALISTIC medium sized latex orange that folds very small and can be easily hidden in the hand. But it pops back to it's full size in a matter of seconds.
Once hidden in your hand you can magically produce this orange from anywhere! From a child's empty pocket or from behind their ear! What about the service collection bag or a book!
You will receive: x1 realistic Latex manderin orange (6cm diameter and 5cm high), gift bag and written instructions.
Review
"Loved this! So simple to use, and very realistic. Used it for an Epiphany Christingle last Sunday; I had loaded the little bag with everything to make a Christingle - apart from the orange. Talked through all the parts - then said they must be meant to stick in me/wrap round me/hold in my hands....until the children yelled out that there should be an orange. Then got them all to think really hard, and finally produced it from one of their heads. "The orange reminds us Jesus came for the whole world, not just for me..."
Will also use it for 'fruits of the spirit' etc."
- Fiona Solman
Product Videos
Custom Field
Product Reviews