Product Description
"Everyone enjoyed this fun trick but it also drove home big point when I asked if Jesus would be in their Christmas." - Dave Bennett
With this cutting edge effect you can cut out 8 squares with just 1 just slice of the scissors. And at this price it's a snip!
Ingenious effect with an unforgettable message.
Ideal for Christmas assemblies, services, youth events and parties.
THE EFFECT: You show a sheet of paper with 16 bright red and blue squares. You ask the audience how many cuts would you need to make to remove all the blue squares. 20? 16? 8? You fold the paper four times and with one cut of the scissors ALL the blue squares fall to the floor. Each one has been cleanly and neatly cut out. Then for the real surprise. You slowly open up the sheet and show that all the red squares remained joined together! Take your well earned applause and hand out the cut out squares as souvenirs.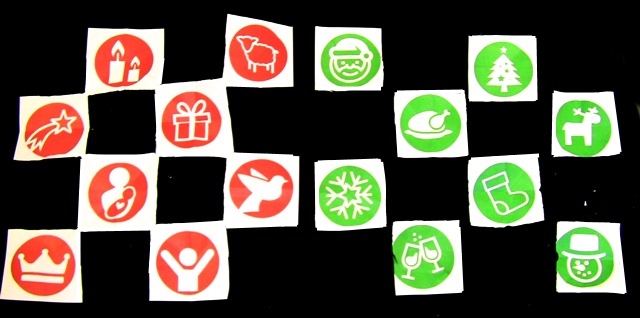 With just one cut all the green squares are cut out!
Great fun at Christmas parties. It looks just like wrapping paper!
GOSPEL PRESENTATION: Scripted presentation for
Easy-to-do. No magical or origami pexperince required!

Visual magic ideal for stage and assembly presentations

The perfect impromptu effect to keep on you for last minute presentations

Great value. Enough sheets for x15 presentations.

Large 31cm square sheets- ideal for even the largest of audiences
FREE: Online video instructions on folding and cutting the paper included
Astonish everyone at your next assembly, service or party with this intriguing and original paper magic trick.
You will receive: x15 large printed sheets (31x31 cms), x1 pre-folded sheet ,and a link to an online instruction video. Please use your own scissors.
Review
"Among the tricks that followed was 'Christmas Cut it Out'. At Christmas dinners I performed this trick to each table - as many as ten times. Explaning the red more Bible bases circles before doing the trick and then asking the dinner guests to vote on whether they would keep or cut out the more secular activities illustrated by the green circles. To make this more accectable to a large audience I had a Powerpoint presentation illustrating what was on the paper.
Everyone enjoyed this fun trick but it also drove home big point when I asked if Jesus would be in their Christmas."
- Dave Bennett
Product Videos
Custom Field
Product Reviews