Product Description
This has the ZOOM SEAL OF APPROVAL! Perform your magic online now! This trick is ideal for being performed to camera as well as to a live audience.
It's the string with 4 ends! When never know which pom pom is connected to which!
And it's all under your control. Just as the audience think they know how the Pom Poms are connected you pull the rug right from under them.
Ideal for those new to magic. A baffling self working effect that is so easy-to-do and yet so utterly mystifying for those watching.
Great for parties, school assemblies and church services and a great prop for any number of messages.
EFFECT
The magician show a pole with four coloured pom poms attached with string in pairs. Pull one and the other pom pom in the pair on moves. But then things take an unusual turn. He pulls the pom pom on one side and the pom pom on the opposite side moves. Impossible. This can be repeated in any combination, keeping the audience guessing which one will move next! Every pom pom is magically connected to the other!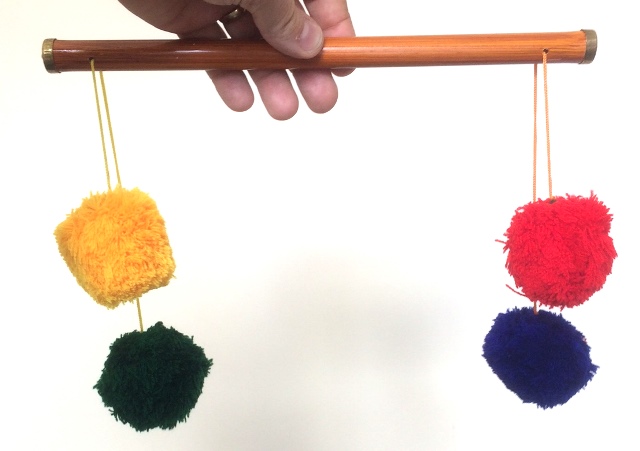 Colourful, Baffling, Brilliant!
PERFORMANCE IDEAS
1. Perform this effect to comedy music, looking just as confused as the audience each time the unexpected happens! It's so effective, you don't even need to explain what's happening (unless you're doing a routine with a message)
2. Replaced the pom poms with another prop. How about unbreakable baubles for a Christmas show? Or plastic fruit, sponge balls...almost anything you choose!
3. Craft Activity - If using in a junior church or kids club, an ideal follow-up activity would be for the children to make their own pom poms. There is a craft activity easily found online which uses wool, scissors and circles of cardboard to make easy but impressive poms poms that the children could then keep!
GOSPEL IDEAS - EXCLUSIVE
LOVE 4Xs. Included is Dave Glover's excellent fully scripted presentation of the four types of love described in the Bible. Show how Agape, Phileo, Eros and Storge are all interconnected using this fun prop. The Trinity - Explain the interconnectedness of the Trinity and our relationship with it in a fun and mystifying way!
Even More Gospel Ideas: Ideal for messages that have four points or that deal with issues of interconnectedness (the body of Christ, family relationships), defying expectations, new ways of doing things and unexpected surprises.
Fun and colourful props
No preparation required
The prop does all the work for you
Highly visual effect
A classic of magic, in an ideal portable size
A classic of stage magic, in a pack-small play-big size!
Comes complete with: The special pom pom pole (12 inches long) with 4 x attached poms poms, our exclusive 12 page booklet with written instructions and Dave Glover's detailed script for the 4 Types of Love.
Product Videos
Custom Field
Product Reviews