Product Description
This has the ZOOM SEAL OF APPROVAL! Perform your magic online now! This trick is ideal for being performed to camera as well as to a live audience.
This takes the biscuit!
One of the most popular new tricks in recent years.
When you take a bite of this VERY SPECIAL cookie it'll VISIBLY restores itself!
The Effect:
This effect is simple but really startling. You take a bite out of a OREO cookie. Yes, you actually put it up to your lips and take a bite. A piece of the cookie is clearly gone! Then you gently blow on the cookie and the cookie is instantly whole again! What??!!
A confectionary-based twist on the classic bitten and restored coin!
Astonishingly easy to do. The cookie will do all the work for you it even shows the bite mark!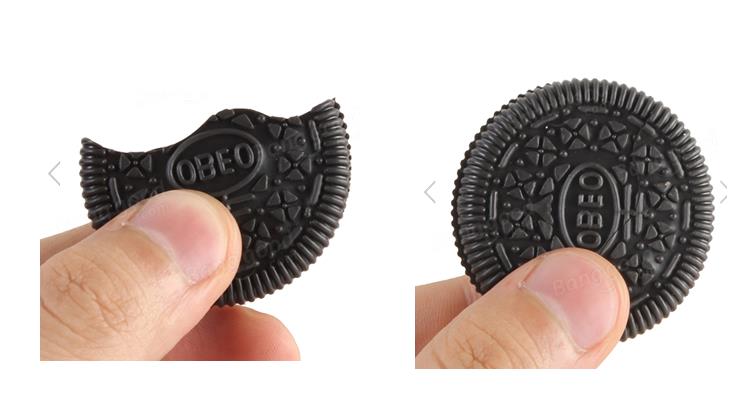 You can now have your biscuit and eat it!
Presentation Ideas:
The effect is much stronger if you put it inside a real pack of Oreos. This sells the fact it's real, and makes the restoration even more impressive! As an added convincer, have the fake cookie third down in the packet and give out the first two cookies for people to eat (note – always check for nut allergies and other intolerances before giving out food)
Follow this up with other food-themed tricks, how about having a lunchbox with a packet of Oreos in,along with our Multiplying Bananas, giant Appearing Straw and Captivating Silk (which uses a Coke Bottle and Pringles Can) and Food to Go menu (appearing burger and fries from flat menu) All of these are available from Mission Magic.
Gospel Presentation:
Christmas Gift- A cookie is a nice gift but what is the best gift ever given...you'll find out about a very special baby in the Bible! God Provides: Perfect for illustrating the feeding of the 5000! God Restores: God can heal us even when life has take bites out of us! God makes us Whole: Jesus' healing of leprosy saw people their bodies fully restored-not just healed (Luke 17:17)
Very visual magic, no cover needed…it happens right before their eyes!
Highly realistic prop cookie
No sleight of hand needed, the cookie does all the work
Easily create a food-themed routine
Perform 'walkaround' or in a show
This trick is truly self-working. Best of all, you can repeat the trick immediately, as many times as you want. No re-setting the trick, no sleight of hand. Just incredible responses from your spectators
You will receive: Gimmicked prop Oreo cookie, 'special something' that helps make the trick work and written instructions for use.
Product Videos
Custom Field
Product Reviews