Product Description
An amazing penetration and this time it really is all done with mirrors. Houdini walked through a wall. Now you can push a silk or even your finger through a solid mirror.
This is a classic piece of magic that's has a powerful impact on audiences of all ages. After all a mirror is something everyone is familiar with. Everyone knows you cannot push a hanky through a piece of glass without breaking it.
Pro quality prop that will make a big impact at any school assembly, church service, party and any community event.
A very deceptive piece of visual magic that is oh-so-easy-to-do - making it perfect for beginning and professional alike.
THE EFFECT
Mirror mirror on the wall, who is the fairest of them all? You show the audience your mirror and give it a spin, allowing it to catch the lights with a little bit of showmanship.
You tap the glass with a pen and show that it's solid. Any member of the audience will confirm this. You take a red hanky and start to clean the mirror and suddenly it starts to pass through the glass. WOW. You flip the mirror to show the hanky coming through the black velvet at the back.
You flip the mirror back round and grab the hanky. With a flourish you pull it out of the centre of the solid mirror. No holes. No gaps. No way for the hanky to pass through.
Now that's real magic!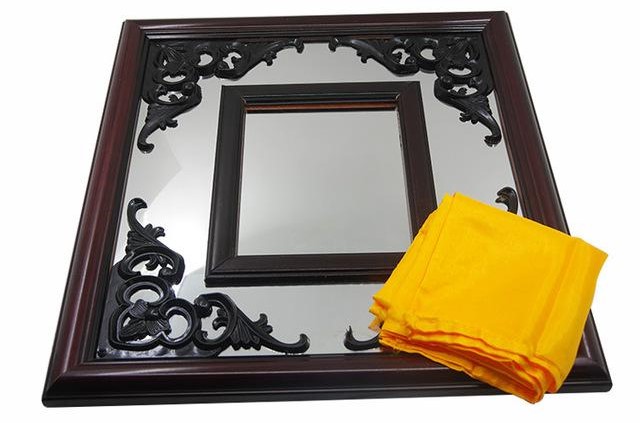 Professional quality prop for a classic effect audiences love.
GOSPEL PRESENTATION
Ideal illusion to illustrate how the death and resurrection of Jesus has broken the barrier between us and God. Use a red silk to represent the blood of Christ or the end of a cross.
Also use the mirror to illustrate:
- how God can find a way through, even in impossible situations.
- the crossing of the Red Sea , with the mirror being like water.
Those three are just to get your started. If you're giving a message on 1 Cor 13:12 'Now we see in a mirror dimly, but face to face.' this effect will make unforgettable.
Beautifully made mirror with stylish dark wood frame
Ingenious secret mechanism
Classic visual magic that will astonish all age audience
BONUS: Hard wearing hanky included plus our own exclusive instructions
You'll be performing this within moments of opening the box. All you need to do is perfect your presentation.
Now on reflection we think this is a wonderful prop you'll be proud to own and will delight your audiences.
Comes complete with: A stage sized gimmicked mirror (14x13 inches), hanky and Mission Magic's exclusive printed instructions.
Custom Field
Product Reviews